Overview
Plantar Fasciitis is the Latin term for "inflammation of the plantar fascia". The plantar fascia is a thick, fibrous ligament that runs under the foot from the heel bone to the toes. It forms the arch of the foot and functions as our natural shock-absorbing mechanism. Unlike muscle tissue, the plantar fascia is not very elastic and therefore is very limited in its capacity to stretch or elongate. Herein lies the problem, when too much traction is placed on the plantar fascia (for various reasons) micro-tearing will occur, resulting in irritation, inflammation and pain. Plantar Fasciitis usually causes pain under the heel. However some people may experience pain under the arch of the foot. Both heel pain and arch discomfort are related to Plantar Fasciitis, with heel pain being far more common than arch pain.
Causes
Plantar fasciitis most commonly occurs due to repetitive or prolonged activities placing strain on the plantar fascia. It is often seen in runners, or dancers and gymnasts who perform regular activities involving end of range foot and ankle movements. It may also occur in patients who walk excessively, especially up hills or on uneven surfaces. Older patients who spend a lot of time on their feet may also develop the condition. Plantar fasciitis frequently occurs in association with calf muscle tightness, inappropriate footwear, or biomechanical abnormalities, such as excessive pronation (flat feet) or supination (high arches). Occasionally the condition may occur suddenly due to a high force going through the plantar fascia beyond what it can withstand. This may be due to activities such as a sudden acceleration or a forceful jump.
Symptoms
Most people with plantar fasciitis have pain when they take their first steps after they get out of bed or sit for a long time. You may have less stiffness and pain after you take a few steps. But your foot may hurt more as the day goes on. It may hurt the most when you climb stairs or after you stand for a long time. If you have foot pain at night, you may have a different problem, such as arthritis, or a nerve problem such as tarsal tunnel syndrome.
Diagnosis
During the physical exam, your doctor checks for points of tenderness in your foot. The location of your pain can help determine its cause. Usually no tests are necessary. The diagnosis is made based on the history and physical examination. Occasionally your doctor may suggest an X-ray or magnetic resonance imaging (MRI) to make sure your pain isn't being caused by another problem, such as a stress fracture or a pinched nerve. Sometimes an X-ray shows a spur of bone projecting forward from the heel bone. In the past, these bone spurs were often blamed for heel pain and removed surgically. But many people who have bone spurs on their heels have no heel pain.
Non Surgical Treatment
Cut back on walking, running or athletic weight bearing activities. Try the recommended stretches above. Shoes with a good arch support and heel cushioning or over-the-counter orthotics may help. Icing the area of pain or taking a short course of anti-inflammatory medications such as ibuprofen or acetaminophen will help with pain. If treatments do not help, a doctor can suggest other options.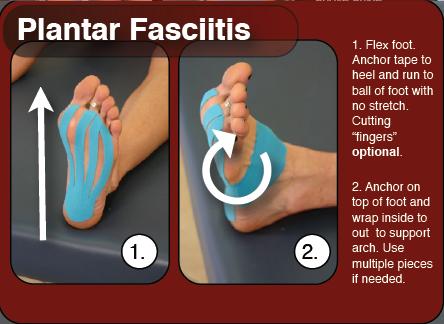 Surgical Treatment
In very rare cases plantar fascia surgery is suggested, as a last resort. In this case the surgeon makes an incision into the ligament, partially cutting the plantar fascia to release it. If a heel spur is present, the surgeon will remove it. Plantar Fasciitis surgery should always be considered the last resort when all the conventional treatment methods have failed to succeed. Endoscopic plantar fasciotomy (EPF) is a form of surgery whereby two incisions are made around the heel and the ligament is being detached from the heel bone allowing the new ligament to develop in the same place. In some cases the surgeon may decide to remove the heel spur itself, if present. Just like any type of surgery, Plantar Fascia surgery comes with certain risks and side effects. For example, the arch of the foot may drop and become weak. Wearing an arch support after surgery is therefore recommended. Heel spur surgeries may also do some damage to veins and arteries of your foot that allow blood supply in the area. This will increase the time of recovery.
Stretching Exercises
Exercises designed to stretch both your calf muscles and your plantar fascia (the band of tissue that runs under the sole of your foot) should help relieve pain and improve flexibility in the affected foot. A number of stretching exercises are described below. It's usually recommended that you do the exercises on both legs, even if only one of your heels is affected by pain. This will improve your balance and stability, and help relieve heel pain. Towel stretches. Keep a long towel beside your bed. Before you get out of bed in the morning, loop the towel around your foot and use it to pull your toes towards your body, while keeping your knee straight. Repeat three times on each foot. Wall stretches. Place both hands on a wall at shoulder height, with one of your feet in front of the other. The front foot should be about 30cm (12 inches) away from the wall. With your front knee bent and your back leg straight, lean towards the wall until you feel a tightening in the calf muscles of your back leg. Then relax. Repeat this exercise 10 times before switching legs and repeating the cycle. You should practise wall stretches twice a day. Stair stretches. Stand on a step of your stairs facing upstairs, using your banister for support. Your feet should be slightly apart, with your heels hanging off the back of the step. Lower your heels until you feel a tightening in your calves. Hold this position for about 40 seconds, before raising your heels back to the starting position. Repeat this procedure six times, at least twice a day. Chair stretches. Sit on a chair, with your knees bent at right angles. Turn your feet sideways so your heels are touching and your toes are pointing in opposite directions. Lift the toes of the affected foot upwards, while keeping the heel firmly on the floor. You should feel your calf muscles and Achilles tendon (the band of tissue that connects your heel bone to your calf muscle) tighten. Hold this position for several seconds and then relax. Repeat this procedure 10 times, five to six times a day. Dynamic stretches. While seated, roll the arch of your foot (the curved bottom part of the foot between your toes and heel) over a round object, such as a rolling pin, tennis ball or drinks can. Some people find that using a chilled can from their fridge has the added benefit of helping to relieve pain. Move your foot and ankle in all directions over the object for several minutes. Repeat the exercise twice a day.